TYCO HO Model Train Rock Island Union Pacific Engines Cars Tracks UNTESTED as is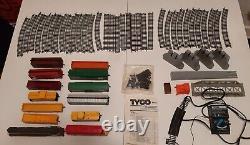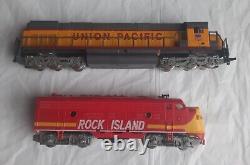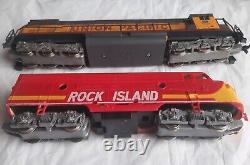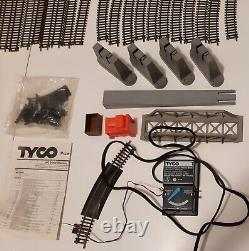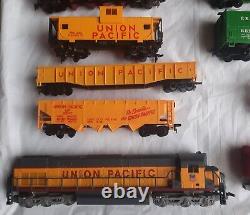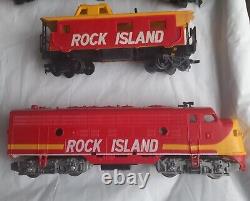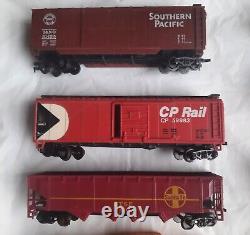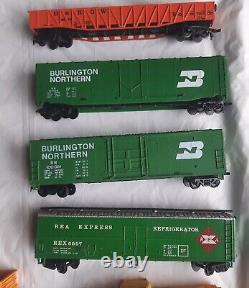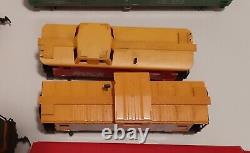 TYCO HO Model Trains Rock Island Union Pacific Engines Cars Tracks UNTESTED AS IS FOR PARTS 1980s. This is the combination of 2 vintage train sets. I do know the Rock Island is from the mid 80s. Both shells are very secure - but both UNTESTED.
That said, they look good! Rock Island underneath stamp states.
RSO ATEST Z-74174 Made in Yugoslavia. Union Pacific side railings bent and cracked but intact. Stamped underneath: Made in Yugoslavia. CARS: 11 extra cars in all - a variety of styles and colors.
Both yellow cabooses seem to show up some inground dirt on top. The dark red CP Rail boxcar inside weight is loose. Model 895 Tyco Pak 1 120 VAC. TRACKS: 26 curved tracks including the transformer hookup track (2 slightly different metal colors from the 2 set) and 9 straight tracks.
ACCESSORIES: comes with a trestle set and an original order form dated 1987. I'll be happy to answer any questions! Any and all flaws are described, but remember - these gently used collectibles or antique items are not perfect, but nonetheless treasured! There is NOTHING that cannot be resolved with communication!