Lionel 402e, 419, 490 Standard Gauge Electric And 2 Passenger Cars Mojave 1926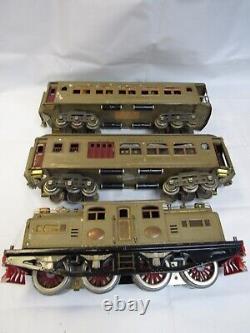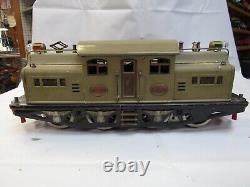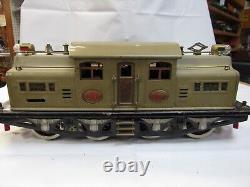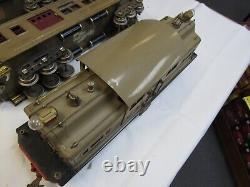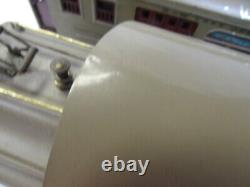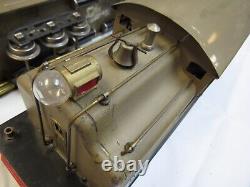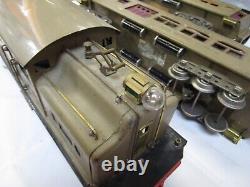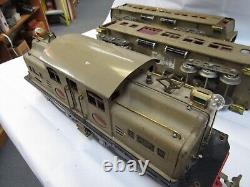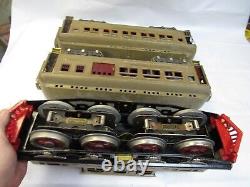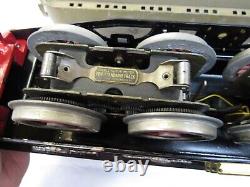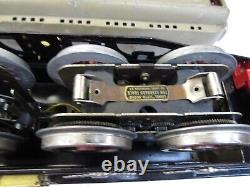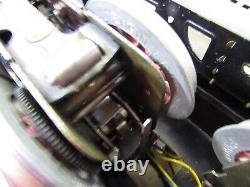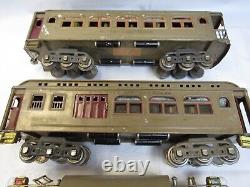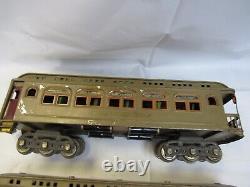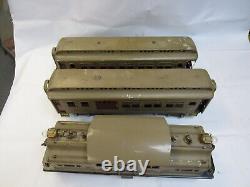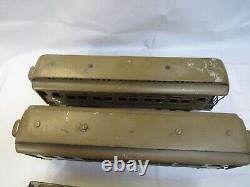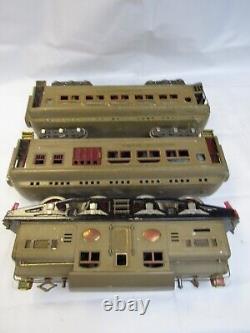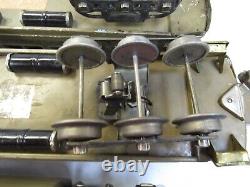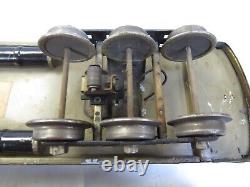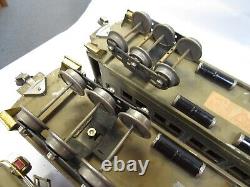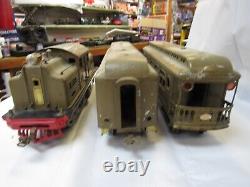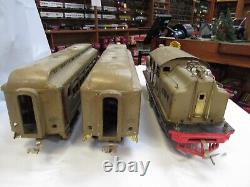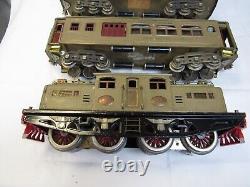 WE TRY TO DESCRIBE THE TRAINS AS BEST AS WE CAN BUT WITH 90 YEAR OLD UNITS IT IS HARD TO SPOT EVERYTHING THAT MY HAVE BEEN CHANGED OVER THE YEARS. LIONEL VINTAGE STANDARD GAUGE 402E, 419, 490. PRE OWNED NO BOXES OR INSTRUCTION. THE UNITS ARE IN VERY GOOD CONDITION. THE ENGINE HAS A 3 POSITION E UNIT AND RUNS GOOD FORWARD AND REVERSE.
THE ENGNE IS MISSING ONE SPRING DETAIL ON THE SIDE FRAME, SEE PICTURE. IT HAS ONE PANTOGRAPH, 2 HEADLIGHTS, 2 WHISTLES, ONE BELL. THERE IS A SMALL DENT IN THE ROOF EDGE, SEE PICTURE NOT MAJOR. THE CARS HAVE ALL THE DOORS, THE OBSERVATION PORCH IS INTACT. NO MAJOR PAINT FLAWS JUST THE USUAL EXPECTED BLEMISHES FOR A NEAR 90 PLUS YEAR OLD PIECE MAINLY ON THE ROOF AROUND THE SCREWS.
FADED LETTERING ON THE CAR SIDES. THE LIGHTING IS NOT WORKING AND NEEDS TO BE RE WIRED.
6 WHEEL TRUCKS AND ALL THE BEARING COVERS ARE THERE. THE 2 TRUCKS ON THE 419 HAVE BEEN REPLACED AT SOMETIME. THE ORIGINAL RIVETS ARE REPLACED WITH SCREWS AND NUTS.
THE CLERSETORY WINDOW COLORED INSERTS ARE THERE. SOME OF THE WINDOW GLASS PLASTIC STRIPS ARE MISSING AND NEED RELACEMENT. WE HAVE NO CONTROL OVER THIS ISSUE. SIGNATURE REQUIRED WILL BE USED FOR EXPENSIVE ITEMS. ITEMS ARE ROUTINELY WRAPPED IN BUBBLE WRAP AND PROTECTED WITH PEANUTS.
THE EASIEST THING IS TO ADD THE ITEMS TO YOUR CART AND ASK FOR AN INVOICE. READY TO ROLL IS AN AUTHORIZED MTH, LIONEL LGB, PIKO, ATLAS, BROADWAY LIMITED, KATO, ATHEARN, WALTHERS, AND EVERY OTHER MAJOR BRAND, FULL LINE BRICK AND MORTAR MODEL TRAIN STORE SERVING ALL YOUR NEEDS SINCE 1991. OUR STAFF MEMBERS ARE LONG TIME MEMBERS OF THE TCA. WE ARE ALSO THE DESIGNERS AND BUILDERS OF THE MTH SHOWROOM LAYOUT LOCATED IN COLUMBIA MD. READY TO ROLL IS LOCATED IN MIAMI FLORIDA.
PLEASE STOP BY ON YOUR NEXT VISIT TO SOUTH FLA. YOU WON'T BE DISAPPOINTED.
PLEASE VISIT OUR OTHER LISTINGS FOR MORE GREAT TRAINS AT REASONABLE PRICES. WE TRY TO DESCRIBE AND POINT OUT ANY FLAWS WITH USED EQUIPMENT TO THE BEST OF OUR ABILITY. WE ARE LIMITED AS TO HOW MANY PICTURES WE CAN USE.
WE ARE HUMAN AND SOMETIMES CAN MISS SMALL DEFECTS. NEW ITEMS ARE FULLY COVERED BY MANUFACTURERS WARRANTIES. IN MOST INSTANCES WE CAN SOLVE ANY PROBLEMS BY COMMUNICATION, OR ADVISE THE BEST WAY TO FACILITATE REPAIR. READY TO ROLL, MIAMI FLORIDA.