LGB 22225 RhB Class ABe 8/12 Allegra Powered Rail Car Train NEW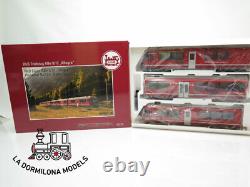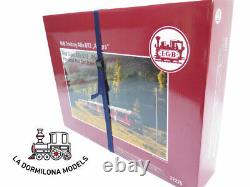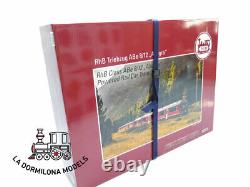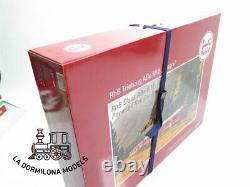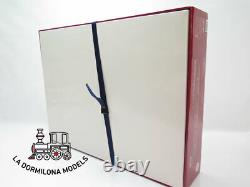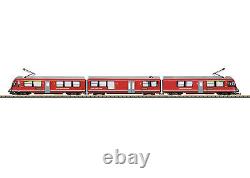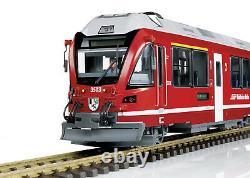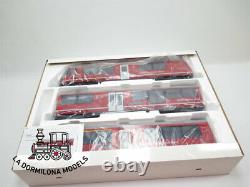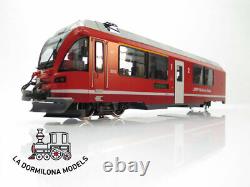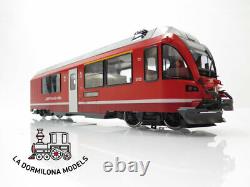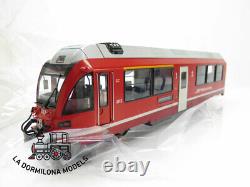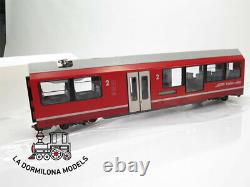 LGB 22225 RhB Class ABe 8/12 "Allegra" Powered Rail Car Train - NEW. Gauge G (Schmalspur) - Article No. RhB Class ABe 8/12 "Allegra" Powered Rail Car Train. The Showpiece of the Rhaetian Railroad The "Allegra" with a length of 206 cm / 81-1/8 offers a variety of technical and mechanical functions. It lacks nothing of its large prototype.
With a long whistle as it arrives at the station, this showpiece of the Rhaetian Railroad attracts attention before the squealing of the brakes sounds. Each stop of the complete route from St. Moritz to Tirano is announced on a public announcement system. Whether it is Radius 1 or Radius 5, this powered rail car train negotiates all curves confidently like its large prototype.
Thanks to an adjustable close coupling, there are no limits on this train in your home's garden or yard. This is a model of an RhB (Rhaetian Railroad) class ABe 8/12 "Allegra" powered rail car train. The paint and lettering are prototypical for Era VI. The model has traction tires and is driven on four wheelsets by two ball bearing Bühler motors. It has an mfx/DCC sound decoder with many sound and light functions. The pantographs can be raised and lowered digitally on both end cars. All the cars on the train have metal wheels, and the center car has wheelsets with ball bearings.
All the doors can be opened. The model has many separately applied details such as conductors, plugs, windshield wipers, antennas, and rear-view mirrors. The model has sprung buffers and complete rail clearance devices (the center part of the rail clearance devices can be replaced with a standard LGB coupler that is included with the train). Length over the buffers 206 cm / 81-1/8. LGB 22225 RhB Class ABe 8/12 "Allegra" Powered Rail Car Train On October 14, 2009, the Rhaetian Railroad (RhB) set a new milestone in its tradition-filled history, because the first of 15 new three-part dual system powered rail car trains (11 kilovolts /16.7 Hertz and 1 kilovolt DC), the class "ALLEGRA", was festively received on this day in Landquart.
The new train is not only highly modern, but it also conceals significant innovations and a lot of power inside. All the wheelsets are powered in both end cars. The multi-system drive equipment consists of 4 drive trains with water-cooled IGBT rectifiers and produces 2.6 megawatts / 3,485 horsepower with AC voltage (2.4 megawatts / 3,217 horsepower with 1 kilovolt DC). That is extremely high because the most powerful RhB locomotive, the high-performance class Ge 4/4 III, offers "only" 3.1 megawatts / 4,155 horsepower of performance. With 8 powered wheelsets and its performance, the "ALLEGRA" develops a correspondingly high tractive effort of 260 kilo newton / 58,450 pound-force, which exceeds that of the Ge 4/4 III by 30%.
With it, the builder Stadler succeeded in creating a unique meter gauge powered rail car train in the entire world in terms of power density, performance, and weight. One special challenge here was to "stow" the power packets in the limited space beneath the powered rail car floor and on the roof, which also succeeded thanks to innovative solutions.
The non-powered intermediate car offers comfortable entry with its depressed floor area, a handicap-accessible toilet, and storage space for baby strollers. There is space in the class ABe 8/12 with its fully air conditioned passenger areas for 24 seats in 1st class and 76 seats in 2nd class as well as additional fold-down seats and standing room.
A modern passenger information system with flat screens is also standard. The ends of the powered rail car trains with the Grisons canton coat-of-arms lends the lower part of the cab with its shape coming to a point and the straight cab windows arching to the back a certain sharp edged look and it also symbolizes its power. The "ALLEGRA" can also claim a speed record for meter gauge trains because on December 20, 2010 unit 3502 reached a proud 145 km/h / 91 mph on a special run in the Vereina Tunnel. The running sounds will also work in analog operation. G / 1:22,5. Original, (como se puede ver en las fotos) OVP en su caja original. Original, (as can be seen in the photos) OVP in its original box. En excelente estado, como nuevo practicamente sin señales de uso. In Excellent condition, like new with practically no signs of use. En muy buen estado, muy pocas señales de uso. In very good condition, very few signs of use. En buen estado, con algunas marcas de uso o rayadas. In good condition, with signs of use, with scratches. Usado con claros signos de uso, muy usado. Used with clear signs of use, heavily used. For scrapping or spare parts. La descripción del estado es siempre bajo nuestro punto de vista. The description of the condition is always from our point of view. Solo se ha sacado de la caja para comprobar que todo este correcto y que el funcionamiento sea correcto. It has only been taken out of the box to check that everything is correct and that the operation is correct. Check all the photographs we include in the advertisement, they are a very important part of the description.
Please make sure that everything appears in the photographs as indicated in the item description. Compruebe todas las fotografías que incluimos en el anuncio, son una parte muy importante de la descripción. Asegúrese de que todo aparece en las fotografías tal como se indica en la descripción del artículo. Puede efectuar varias compras en una semana y, si no es posible enviarlas en un único paquete, recalcularemos los costes de envío para que sean lo más asequibles posible.
Due to the large amount of products we have in our store, not all the items have been previously tested. The item "LGB 22225 RhB Class ABe 8/12 Allegra Powered Rail Car Train NEW" is in sale since Wednesday, November 18, 2020.
This item is in the category "Juguetes\Modelismo ferroviario\Escala G\Locomotoras". The seller is "ladormilona" and is located in SANT PERE DE RIUDEBITLLES. This item can be shipped worldwide.
Color: Rojo
País/Región de fabricación: Alemania
Marca: LGB
Alimentación: DC
Características: Con luz
Tipo: Locomotora eléctrica
Control: Digital