Kato 10-1625 Keikyu 230 Type (Daishi Line) 4Cars Set- N Scale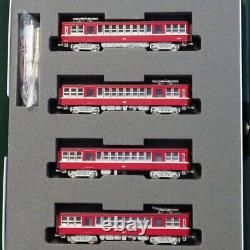 Kato 10-1625 Keikyu 230 Type (Daishi Line) 4Cars Set- N Scale. Around 1975, the Daishi Line. The 230 type, which was operated at the end of the term and features a smart style, is a 4-car train. Keihin Electric Express 230 series is an interburn vehicle with a 16m2 door structure. Although it was manufactured in the early Showa period, it had a large window style and was one of the famous prewar private railway cars incorporating the latest technology at the time. He was active on the Keikyu Main Line until 1972, and then on branch lines such as the Daishi Line and Keikyu Line until 1978. In addition, some rolling stock was transferred to Takamatsu Kotohira Electric Railway in Kagawa Prefecture from 1977 to 1980, and it was seen that it was active until 2007 (Heisei 19). In addition to the Saha 280 type, which was converted into an intermediate car after the deha was dismounted, a new shape of the front of the odd-numbered car and the end face shape with the gangway not blocked.
You can enjoy the appearance of the end of active duty on the Daishi line, and you can also enjoy the atmosphere of the time when you were active on the airport line by removing one intermediate car.