Fleischmann N' Zugset Gambrinus DB F-train BR 01 steam locomotive + 3 Pass. Car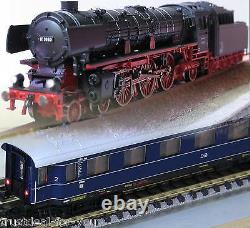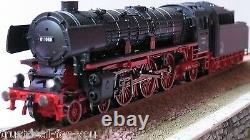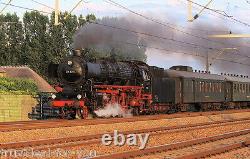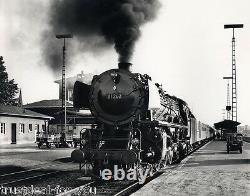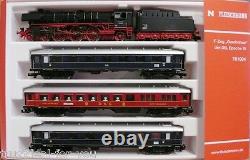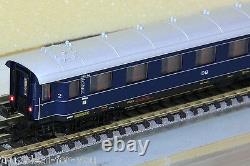 Deutschland Bankkonto mit BIC und IBAN. Traite bancaire de banque International Bank Draft. BR Class 01.10 and 2 Passenger car and 1 Dining car. Spur N Scale 1:160.
Network Era III is already legend. The trains linked the centers of West Germany and were the predecessors of today's ICE connections. One of the most popular features of this network is still the. Just in time for second breakfast is made of "Gambrinus" on the way through Germany (Kiel - back in Munich and Cologne - Frankfurt - - Würzburg).
Set consists of an elegant locomotive of the BR 01.10 and two coaches and one dining car of the group 35/36. All vehicles are equipped with PROFI-couplings. Locomotive has a 6 pin interface. As a result of the in 1948 introduced Währungsreform and the Marshall aid, the German industry had given a positive impulse and was developing itself at a very high pace.
The standards of living increased every year, because of that there was need not only from business travelers but also from the "normal" traveller for a comfortable and consistent express. But also two other developments were important for the DB to decide setting up a new network of express trains. Cars were more and more used by ordinary people and were going to be a normal good for most people, many people could travel cheap by car, but also flying was advanced. Firstly on transatlantic routes and later also on the shorter European routes.
These developments were reason for the DB to came with an answer on these developments in the form of an exclusive express. The DB had to position this network as a product with characteristics as speed, comfort and exclusivity.
On 20 May 1951 the new express. Network went officially in service. Officially the network was named: "Netz der leichten Fernschnellzüge", the opposite of the slow and heavy international trains. They focused firstly on business travelers and offered good connections between the major West-German cities and a couple of cities abroad.
The new trains were indicated as. Network was more or less the successor of the pre war FD trains. Only the relations were now not anymore focused on Berlin but were now north-south focused.
The trains which were in service in the. Network consisted of coaches indicated as. Trains and trainsets (indicated as Ft-trains). The coaches and trainsets were painted in a blue color to distinguish the trains from the other trains.
Because of the color the network was soon called Blaues. In the first years the. Trains consisted of 2st class trainsets or pulled trains with steam locomotives.
These trains had mostly 3,4 or 5 coaches. The pulled trains had 2st and 3st class compartments. Trains had also 1st class coaches (for example the "Rheingold-Express"). From 1956 when the 1st and 2st class became the new 1st class and the 3st class changed to 2st class, the trainsets had only 1st class and the other.
Trains had only 1st and 2st class. The trains were provided with dining coaches and compartments were one could work with some facilities like a secretary. Some trains had also sleeping coaches. The rolling stock consisted of pre war coaches, mainly of the types Bauart 28, 35 and skirted coaches. Also a couple of pre war Rheingold coaches and the Henschel Wegmann zug was used in the. The coaches were rebuild in Belgian workshops because the German workshop had no more capacity due to the repair works of rolling stock. The coaches were painted in a blue color (RAL 5011) and got the letters "DB" on both sides.
Trains got the inscription "Deutsche Bundebahn" on both sides. In principal the DB wanted in each. A dining coach, but economically it was not feasible to operate on each route a dining coach. Therefore some coaches Bauart 1928 were rebuild to so-called "halbspeisewagen" ABR4ü. Coaches came into service in 1953.
This were the new 26,4 meter express. The first coaches were of type A4ümg-54, 65 of these first class coaches were special build for services in. As locomotives were mainly steam locomotives used of class BR 01, BR 01.10, BR 03, BR 03.10 and BR 05, as well as some electrical locomotives of class E 17 and E 18. Also the new diesel locomotives V 200 were used in the. The dining coaches had the color red.
The dining coaches were owned and operated by the DSG. Until 1955 the DSG was not allowed to operated dining coaches in international trains, so in the international. Trains were ISG/CIWL dining coaches in service. In the middle of the sixties you could distinguish two types of. The first was short, between 2,3 and 5 coaches long.
They consisted of 1st class coaches together with a dining coach mostly located in the middle of the. Trains were mostly running between the major German cities in West-Germany. The trains were unregulary scheduled, so not each hour or each two hours a. Like in the InterCity network later. Had also second class coaches and had also sleeping coaches. The second class coaches were mostly green colored. See also the 26,4 meter express. In these trains were also some "Kurswagens" of other railway companies. The trains had many times other indications and trainnumbers abroad. Network disappeared and the InterCity network started many international. Categories were mostly pulled by a fast locomotive like a V 200 (diesel), E 10 (electrical) or. 9/10 "Rheingold" which was in service on the relation Amsterdam/Hoek van Holland - Utrecht - Emmerich - Keulen - Mainz - Karlsruhe - Basel SBB. Had from 1951 until 26 May 1962 normal skirted coaches 1, 2 (and until 1956 3) class.
But inspired by the pre war Rheingold, the Deutsche Bundesbahn wanted for this trains also special rolling stock. On 27 May 1962 the Rheingold with special coaches went into service.
21/22 "Rheinpfeil" was also provided with these special coaches. After the introduction of the international TEE network in the summer timetable of 1957 a couple of. Trains got the TEE status. Trains were meant as high graded long-distance trains in Western-Germany. Seat reservation was not obligatory.
But to prevent that the trains had to much forenses travelers which used the trains only for semi short distances the DB came up with the following. Of course the trains stopped only in a few cities. On long-distances than for short distances. One kilometer was 8 pfennig in second class and 12 pfennig in first class.
With rear tail red light. Zug-Netz der Epoche III ist längst Legende. Die Züge vernetzten die Zentren Westdeutschlands und waren die Vorgänger der heutigen ICE-Verbindungen. Einer der bekanntesten Züge dieses Netzes ist bis heute der.
Pünktlich zum zweiten Frühstück machte sich der "Gambrinus" auf den Weg durch die Bundesrepublik (Kiel - Köln - Frankfurt - Würzburg - München und zurück). Das FLEISCHMANN-Zugset besteht aus einer eleganten Schlepptenderlok der BR 01.10 sowie zwei Reisezug- und einem Speisewagen der Gruppe 35/36. Sämtliche Fahrzeuge sind mit PROFI-Kupplungen ausgestattet. Brand new in the original box. One of the finest N-scale dream.
Are you ready to ride? TRUSTDEAL - FOR - YOU.
Wir garantieren eine rasche, problemlose und vor allem korrekte Abwicklung. Alle unsere verzeichneten Produkte sind fabrikneu in Originalverpackung mit Fabrikgarantie (ausser speziell angegeben) Falls Sie unsere Ware beschadigt erhalten, liefern wir Ihnen innerhalb von 90 Tagen kostenlos Ersatzteile oder tauschen die beschadigte Ware gegen neue Ware aus. Bei einem Versand der Waren nach Europa und einzelne Lander, kann es sein, dasbei der Einfuhr, Zolle oder Steuern zu entrichten sind.
Bei Ruckfragen wenden Sie sich bitte vertrauensvoll an uns. Wir haben globales Buro in Deutschland, in China, in HongKong und in Japan.
Sie erhalten Schutzkaufen 100% von uns. We guarantee a rapid, problem-free and above all correct completion. We are gladly to help and support you if you need assistance. This item is in the category "Toys & Hobbies\Model Railroads & Trains\Railroads & Trains\Locomotives". The seller is "trustdeal-for-you" and is located in this country: HK.
Country/Region of Manufacture: Germany
Material: Plastic + Metal, Brass, Diecast, Plastic
Theme: Gambrinus
Scale: 1:160
Assembly Status: Ready to Go/Pre-built
Control System: Analog
Grade: C-9 Factory New-Brand New
Type: Steam Locomotive + Passenger car set
Features: Light Function, Limited Edition, Painted, DCC ready
Rail System: Two-Rail System
Color: Multicolor
MPN: 781004
Power Type: DC
Gauge: Standard N 1:160
Age Level: 17 Years & Up
Corporate Roadname: Deutsche Bahn
Brand: Fleischmann
Wheel Configuration: 4-6-2
State of Assembly: Ready to Go/Pre-built
Power Supply: DC
Vehicle Type: Locomotive
Grading: C-9 Factory New-Brand New
Control: Analog
Replica of: BR 01